Revolving art gallery: G. Ryan Hudson
We're excited to announce the latest artist showcased in our revolving art gallery.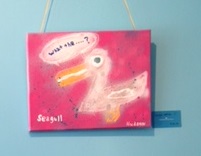 G Ryan Hudson is a local Columbus folk artist. His media of choice are acrylics and spray paint on canvas and found objects.
He began painting about a decade ago during a very challenging chapter in his life. After much trial and error, and with the encouragement of a dear friend who is also a painter, he discovered his love of folk art. His great love of the sea, sea life and the beautiful country of México are always the inspiration for his art.
Check out Ryan's artwork the next time you're in the studio; it's so lively!