Rhinebeck/Not Rhinebeck Make-A-Long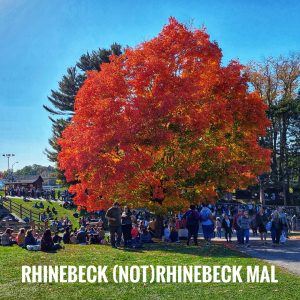 Rhinebeck/ (Not Rhinebeck) MAL starts today August 1 and ends October 20, the day before New York Sheep & Wool plus the first day of our (Not) Rhinebeck Celebration at the studio.
Cast on any project you would like to wear if you are (or were) going to New York Sheep & Wool today or sometime in the near future and make along with us. That could mean an official "Rhinebeck Sweater" or an accessory to show off your creative prowess whilst prancing around the Dutchess County Fairgrounds. As I have found out in the past, some years it's cold and rainy or some years it's so hot you can wear a sun dress. Sometimes the weather can play tricks on you and be hot on Saturday only to drop 50 degrees on Sunday with snowflakes floating around. No, my friends, I'm not pulling your leg! One year I saw this coming and Friday night I started knitting a pair of fingerless mitts to wear on Sunday.
Here's what you need to know:
What is a Make Along? It's a group of fiber loving folks who want to join with a group to make something. In our case, these are projects you can wear when going to NYS&W 2023. These projects can be knitted, crocheted, or woven. Think sweaters, wraps/ shawls, and accessories such as hats, mittens and cowls. You may use any pattern you choose.
When will we get together? There will be a bi-monthly Zoom on Sunday nights starting this Sunday, August 6 and ending Sunday, October 15 at 8:00pm. If you are local to the 

studio

, just come in during open store hours and have a seat to work on your project. You never know who will come in or I might just sit with you and work on my vest. You can always bring a friend!  To  register – email (614knitstudio@gmail.com), call (

614

-670-5629) or come into the 

studio

 and I will make sure you have a link for the Zoom sessions.
What's the perks? Well, encouragement to keep going is one. Also, everyone who registers and uses 50% or more of their yarn purchased from the 

studio

will get a special Katrinkles tag that commemorates this years Rhinebeck. One side will be for the folks that make the pilgrimage to New York and the other for those that will be celebrating elsewhere. You will also be in the raffle to win fabulous prizes like yarn, kits and much more! If that isn't enough, you can be part of our virtual and live fashion show featuring your own creations on Rhinebeck weekend.
Hopefully this is getting you excited to play along with the rest of us as we prepare for fall and beyond.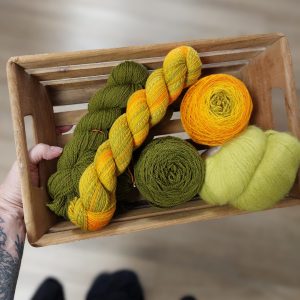 I have chosen to knit up Andrea Mowry's Tessellated Vest. I really love vests and this one looks so pretty. Here are my yarn choices and I'll be starting to swatch this week. The best parts about making these projects are taking your time choosing a pattern and the special yarns you want to commemorate this auspicious event!