Colors of 614 Club: October 2015
We were so excited to begin handing out the first packages from our Colors of 614 Club to club members and want to share the joy with our broader group of friends.
Spoiler alert: If you are a club member who hasn't yet picked up your package and don't want to spoil the surprise of opening it, look away now! Quick, go check out our classes or something. :-)
OK, so when we introduced this club, we told you that it would feature special hand-dyed yarn by Space Cadet and locally designed patterns inspired by the neighborhoods and their landmarks in the Columbus, Ohio area.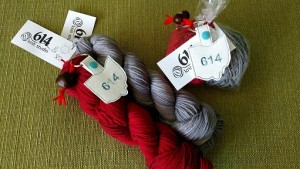 The October 2015 inaugural package of the club features Space Cadet's Cressida yarn in the Campus Scarlet and Campus Gray colorways (two-skein option pictured on the left; one-skein — which this time is two half-skeins — pictured on the right). When deciding on the first neighborhood and landmark, we took our cue from the awesome head dyer of Space Cadet, Stephanie. Although she currently lives in Pittsburgh, Stephanie is a graduate of The Ohio State University! We knew that she would be familiar with scarlet and gray and the important role it plays in Columbus.
The accompanying hat pattern was designed by none other than our instructor Ray Brooks. The Shoe hat is well represented with his clever use of cables to show off the prevalent arches and the shape of our beloved stadium.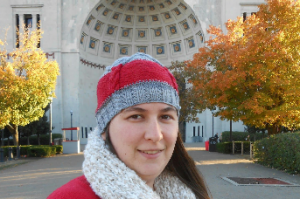 Club members also received a wee 614/Ohio keychain/stitch marker holder that was handmade by one of our customers, and a buckeye.
We're thrilled with this first package and are well underway  with preparations for the next several installments. If you haven't yet subscribed but would like to, we do have a few openings available on a first-come, first-served basis. Click here to subscribe. Club sign-ups are open until November 2 at 9am, or until we are sold out.