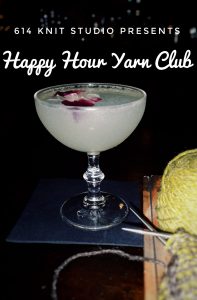 In years past, Happy Hour used to refer to the time in between work and dinner where drinks at the local watering hole would entice work weary folks in for a beverage or two before heading home. In more current times, you will find fast food restaurants and coffee houses creating the same but without an alcoholic bent, serving milkshakes and lattes instead of a martini or a draft lager. Here at the Studio, we are celebrating Happy Hour with a new club designed around beverages.
Details:
You will receive a beverage-themed package every other month that includes:
a skein of yarn from one of our favorite dyers (your choice of fingering or worsted weight)
a stitch marker from Ann Tudor
a product from Tuft
All items will follow the featured beverage theme. A surprise gift will be in your parcel at the end of the 6-month and 12-month periods.
Cost: $150 for 6 months / $300 for 12 months
To join the club, click here or call or come into the studio. Club sign-ups will close on Friday, December 15, at 11:59pm Eastern!
Here's a pdf of the club details that you can share.