Join us on Friday, March 4, from 1-8pm for our first Destash Friday!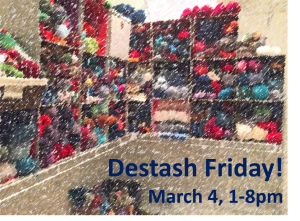 What is destash, you ask? It's when you depart with any yarn, needles, or books that you no longer have a use for.
So how does this destash event work?
Bring in your full skeins with labels and needles in good working order that you would like to sell, trade, or give away. This is not the place for leftover partial skeins; we have a plan for that in the future. This is a great time to pick up some new lovelies for a project and clean out your own yarn stash. You can list items on our destash thread on Ravelry.
Important note: We won't be handling the transactions; you will do that yourselves. If you're giving an item away, you can drop it off; if you're looking to sell or trade, you will need to stay with your items. (Of course we understand not everyone wants to – or can – be at the studio from 1 to 8; just bring it in when you can. There will likely be a constant rotation of goodies for trade or sale.)
We hope to see you on Friday!