614 Knit Studio's Grand Reopening Birthday-versary Celebration!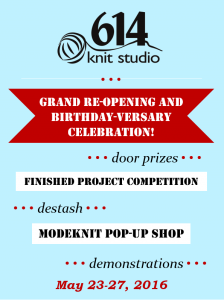 Join us for our much-awaited grand reopening birthday-versary celebration! We have so many exciting things planned; can't wait for you to join the fun in the studio.
May 23 – 27, 2016
Ongoing activities:
Customer Finished Project Trunk Show Competition: Customers can win prizes for their finished projects. There will be two categories, People's Choice and Instructor's Choice. Prizes are 614 Knit Studio gift certificates: 1st place receives a $50 gift certificate, 2nd place receives a $25 gift certificate, and 3rd place receives a $10 gift certificate.
Donation Collection for Flying Horse Farms: We are collecting supplies for this wonderful organization that provides magical, transformative camp experiences for children with serious illnesses. Each item donated gives you a ticket for the door prize giveaway. Qualifying products for donation:
Elmers glue, 1 gallon size (found at Staples, JoAnn, Walmart and Amazon)
Tempera paint/ bright colors, 1 gallon size (found at Dick Blik on Sawmill, Amazon, Target and Staples)
Batteries/ size D & AAA, multipacks please
Door Prizes: Door prize chance tickets are given for purchases of $75 and over throughout the week, including purchases from the ModeKnit Pop-up Shop and donations to Fly Horse Farms.
Tuesday & Wednesday, May 24 & 25:
ModeKnit Pop-up Shop, 12:00- 8:00pm. Annie Modesitt will be available for book signing. (hours to be announced)
Thursday, May 26:
Destash Thursday: What is destash, you ask? It's when you depart with any yarn, needles or books that you no longer have a use for. Please bring in your full skeins with labels and needles in good working order that you would like to sell, trade or give away. This is not the place for leftover partial skeins. We have a plan for that in the future. This is a great time to pick up some new lovelies for a project and clean out your own yarn stash.
Open Stitch all day long, from 10:00am- 8:00pm!
Friday, May 27:
Open Stitch from 1:00-8:00pm, with treats and cake all day long!
Demos all day, including needle felting, wet felting, fix-a-stitch, pompoms and much more.