Road trip on the Carnation Yarn Trail!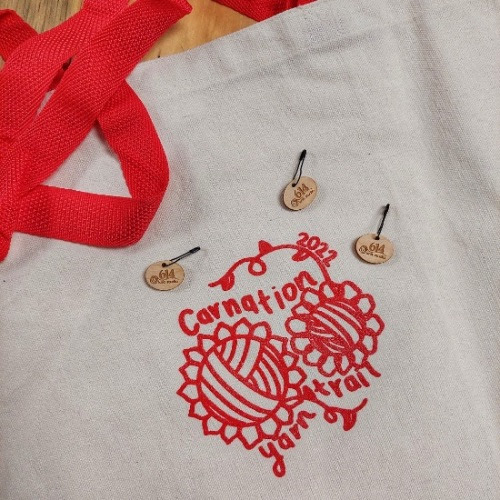 After months and months of planning it's time to set our compass to the Carnation Yarn Trail! With 22 shops participating across Ohio, Michigan and the top of Kentucky, you are sure to find one you might have not visited before. You can pick a spot or check out a few, many in a day or travel for a weekend. There is a map on the website where you can chart your route.
This Friday is the start of the first 
Carnation Yarn Trail
. I am readying the studio for you with new yummy yarn and so much more that will be arriving in the next few days. Columbus' own 
Dye Mad Yarns
, Cleveland's 
Destination Yarn
 and 
Purlsmith
 from the PNW will be here with pop-up shops to fulfill any color lover's heart. Our clearance section is over-stuffed with bargains for you. I'll be giving out studio stitch markers (until they last) and we will once again be honoring you with a spin on our Wheel of Prizes with every purchase. I have a limited amount of the trail's official commemorative tote for you to purchase as well. This is 9 days of fun fiber-filled times with Open Stitch at the front sofa area too!
The extended studio hours for the trail are:
Friday, July 29 from 12-7pm
Saturday, July 30 from 10am-4pm
Sunday, July 31 from 12-4pm
Monday, August 1- Thursday, August 4 from 12-6pm
Friday, August 5 from 12-7pm
Saturday, August 6 from 10am-4pm