October 17: I Love Yarn Day Event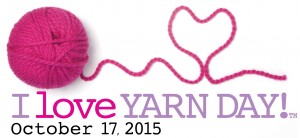 Join us for a special studio event on October 17, which happens to be "I Love Yarn Day."
Attendees of the event will receive lunch and opportunities to participate in a yarn swap, destash table for yarn, books, patterns, needles and anything related to our crafts (knit, crochet, spinning, weaving, and felting).
We will yarn bomb the studio with bunting made by our customers. (Patterns will be available or you can do your own.)
Additionally, there will be prizes for those of you who wear your crafts to the event. The ones with the most on their person when you walk in the studio – and allow usto photograph you for social media – will win grand prizes!
All yarn in the studio will be 20% off.
Tickets are $20 each. Call the studio to register.
I Love Yarn Day
Saturday, October 17
11am – 3pm