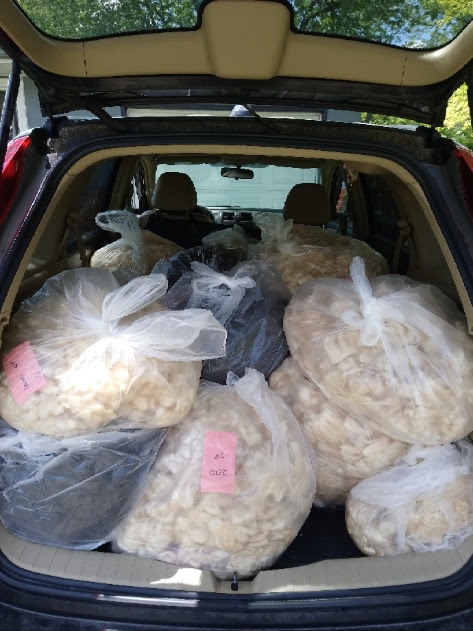 Last Sunday I enticed Gayle into playing co-pilot as we traveled to a farm and picked up 82 pounds of raw wool. These will become my next two small batches of Studio Dog yarn. I would have never guessed 10 years ago I'd be collecting wool to get my own yarn spun. Do you ever have a moment when you stop and think "I'm at the right place at the right time"? I had that on Sunday. I was very anxious as I think I just have enough knowledge to be dangerous. What if I make a big mistake? What if I really don't know how to choose a good fleece from a not so good fleece? What if I don't get enough? What if the yarn isn't as lovable as the last batch?
Fellow wool lovers, I'm here to tell you that my gut says it's gonna be good. I don't think I've felt so strongly about something in an awfully long time. I also think I'm on the precipice of the new path where my wooly adventures will lead me. I've said before that I'm a planner. I like to have solutions before the problems even pop up. I feel best when I have a plan a, b & c for those times when you need them. After the year of all years, I wanted to devise a plan for the unthinkable demise of the studio as you know it. Oh, I'm confident we are still going strong but hey, others have been having a tough time keeping their LYS's open during a pandemic. Again…I'm a planner. As you can tell, we have quite a bit going on in the studio. So many choices for you to participate. Tag up with your community of yarn and fiber arts lovers and join me. The health of the studio remains strong with all of our combined efforts.
Have you heard the saying "If you're not growing, you're dying?" I'm consistently growing my knowledge of my favorite thing, wool. Wool yarn if you want to be specific. Let's get back to Sunday, or better yet Saturday night. Marty and I sat in on Wing & a Prayer's Barn Chat with Deb Robson. You know the lady that wrote The Fleece & Fiber Sourcebook? Well, that talk went down to the molecular level of a wool fiber. It was incredibly over our heads. What the talk did do was give me a few good nuggets and the idea that I love what I do. I believe in our industry and the power of producing locally sustainable products. It was the perfect thing to do the night before heading to meet some new friends (both people and sheep). It's just confirmation I'm doing what I should be doing right now.