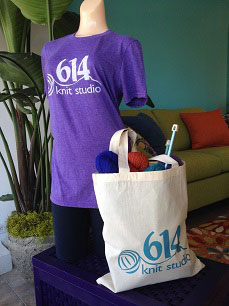 You asked, and we've answered: We finally have a facebook page set up for the studio. We will be sharing new class and event info, as well as some fun photos. Please like and share, if you're so inclined. It would be much appreciated!
Launch week activity continues. Last night's opening party was spectacular fun…. lots of laughter, which is a sure sign that there are knitters in the room, right?
Tonight is the open knit (6-8pm) with yarn swap at 7pm. Bring a skein (or more) of fingering weight yarn to swap. (Future swaps will include other yarn weights; the logistics are easier if we focus on one weight at a time.) Even if you don't want to participate in the swap, come to knit and see other people's treasures!
We will wrap up our opening week activities on Friday night with our "bring your own beverage and yarn" party (6-8pm).
Don't forget to call the studio to sign up for classes. Did you know we're offering 27 classes in April??