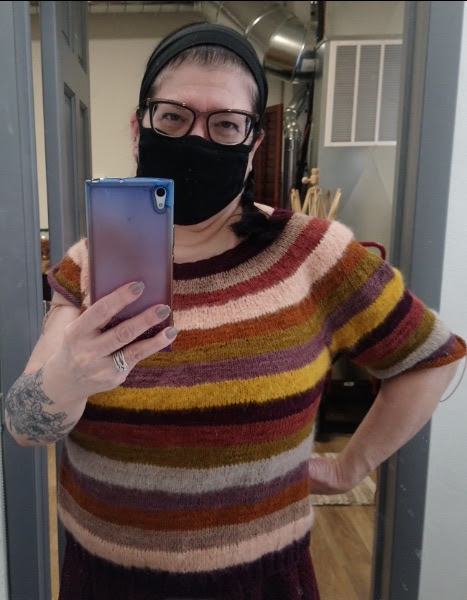 … 30 minutes a day can change your course to a short stay on Sleeve Island! Last week I talked about following Kay's (aka the Crazy Sock Lady) example and choose to knit just 30 minutes a day on your most daunting project to get that baby done! I'm here to tell you it works. I'm just a few stripes away for finishing my first sleeve of my Stripes sweater. Not only did I work on that project, I made headway on my Flax sweater as well. I'm close to the new short-row section and then on to separation of sleeves. This one is just flying off the needles and will go to 30 minute status as soon as I get that other sleeve on my Stripes.  Maybe I'm not such a monogamous knitter after all. What's next? I'm not sure but you know I'll be daydreaming and planning as I finish these.
After all the divisive political themes in every source of media causing much stress, along comes a pretty surprising uniter for most of the country. Although I was working during the inauguration, I saw many parts of it through the miracle of replay. The images abound including fashion, who attended in person, what the president did during his first hours in office and so much more. Along comes this innocent image of Senator Bernie Sanders sitting in a lone folding chair trying to stay warm on the cold day with a pair of colorwork mittens on in contrast to his parka. These beautiful recycled sweater mittens were a gift three years ago from an artisan in his home state. As stitchers ourselves, I think it's the first thing we notice in anything we see. The world around us, outside of our underground stitching societies, saw something else. A social media savant created a meme with the miracle of technology and united the country where no politician could. Everyone everywhere started to place that image of Bernie in other places. Humor is the salve to so many wounds. I witnessed people on both sides of the aisle posting these hilarious memes. This reaction gave the country a bit of the levity we needed now. I felt my hopeful heart soar and funny bone be tickled as I saw innovative designers come up with matching mitten patterns within a few hours. By the time 24 hours had passed, I counted no less than 7 patterns including what must be the fastest knitters on the planet, samples of these designs. Most of them had the picture of Bernie shivering in his small chair on the front picture. At the time of writing this very email (Monday morning), I have counted 14 15 patterns in the "Hot Right Now" list on Ravelry. Socks, hats amigarumi and even the original mittens made from a recycled sweater recipe. And this is just on the front page! Seriously….
Topping the list is a free sweater pattern inspired by these now infamous mittens by none other than studio favorite designer, Caitlin Hunter. Not only did she get the pattern down, but she also put it on her most popular sweater silhouette, Soldotna. I personally love that sweater. Feel the Bern might just be my next project. Studio sample knitter Stephanie is making one in Berroco Lanas. I love the combo we picked out, don't you? Make sure you look at the project pages of this sure to be a hugely popular pattern. There's one in Shibui Nest in colors inspired by Lady Gaga's dress & coat ensemble she wore to the inauguration. Want to make one of your own? The yarn choices at the studio are endless as is the color combos.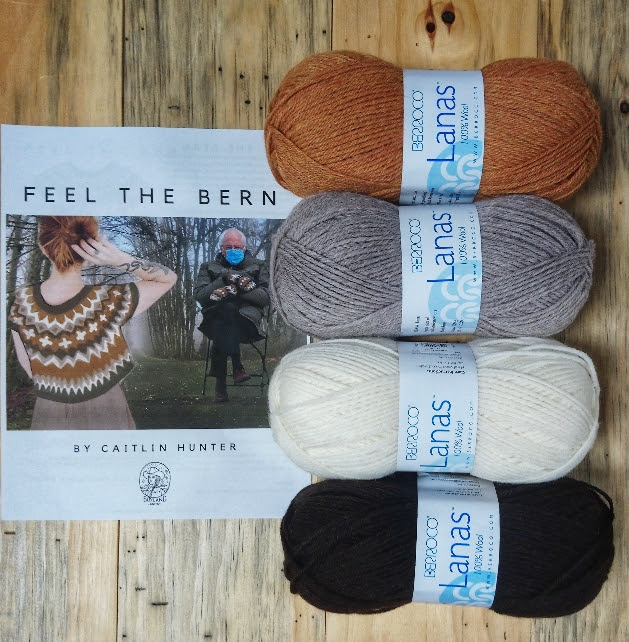 Caitlin requested that in leu of payment for the pattern, you make a donation our local Meals on Wheels program. You can do that here. I have seen the wonderful things that Lifecare Alliance can do for the participants in this life saving program.