Instructor Spotlight: Beth
Today's teacher spotlight highlights Beth, who has a great array of classes planned for the studio, including her (in)famous Cowl of the Month.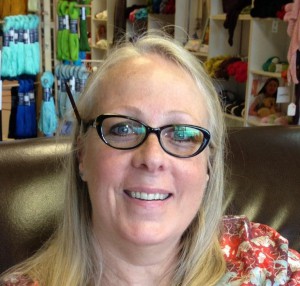 How did you first learn to knit?
I learned to knit when I was 6 years old. I had staph pneumonia and was in an oxygen tent in New York City Hospital. I was not allowed to have a TV, friends, or anything else in my room for fear of more infection. My mother brought me a set of needles and a 'Jack Frost Learn to Knit' book to the hospital. I would lay all day in the tent and knit… I loved it! When I got out of the hospital I made my mother take me to a knitting shop downtown to buy yarn for a sweater. It was a beautiful mauve/pink yarn for a cardigan pattern.
What's the first thing you ever knit?
Believe it or not… My first project was a sweater when I was 7 years old. I still have that sweater to this day! (doesn't fit though…lol)
What's your best knitting memory?
My best knitting memories are when I'm knitting with my friends or teaching a class. I enjoy being around people with the same passion that I have.
What's your best funny knitting story?
Several years ago I broke all the fingers on my left hand. I took a nasty fall and my fingers snapped off like a chicken leg. I had compound fractures and my hand was in a cast and swollen. I had a class the next day after the fall that I did not want to miss. I talked my girlfriend (Kay McCarroll) into being my 'left hand' when I taught the class. It looked strange but we all had a great laugh which made the class so much fun. And … it worked! Moral: You can do anything if you have great friends!
What's on your needles (or hook) right now?
I have several class examples on my needles/hook right now. And of course…. a project with beads!
What's your favorite place to knit?
If it's at home…..I have a special room in my house that's filled with yarn.
But.. I love to knit with friends. Love to see what they are knitting and what yarn they are using.
And it's always filled with laughter!
What are your favorite kinds of knitting projects?
I love lace! And if it has nupps and fancy stitches … that's even better!
What's your most irresistible fiber temptation?
That's hard….I love yarn!
I love going to fiber festivals and seeing what people have hand-spun or dyed. I can't resist!
What's your best advice for beginners?
There are 'no rules' in knitting! Do what you like!
Why do you love to teach?
I love when someone has that 'ah-ha' moment. When something clicks!
I love to teach 'techniques'… whether it's entrelac, mosaic, fair isle, lace, knitting with beads, or double knitting. Anything that makes your knitting unique.
I love when someone comes out of the class and says…. Wow… this was fun!