Instructor Spotlight: Martha
Today's teacher spotlight highlights Martha, who brings to the studio a wealth of knitting knowledge and a particular brand of quirky that makes her fit right in.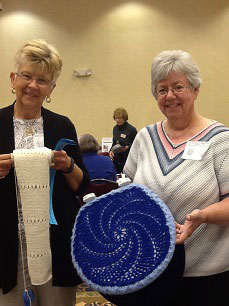 How did you first learn to knit?
I was 10 years old and home sick from school. Not sick enough to be quiet, though. My mother had five pre-school children (did I mention I come from a big family?) and was getting pretty desperate, as you can imagine. So she cast on about 80 stitches and taught me the knit stitch. The knitting took. Being quiet, not so much.
What's the first thing you ever knit?
The scarf my mother started me on. It was red worsted weight wool, garter stitch, on size 4 needles. Man, did it grow slowly!
What's your best knitting memory?
Dale Long admiring my lace shawl. He was a truly gifted knitter and I felt honored.
What's your best funny knitting story?
I entered a contest whose title was "Just Because You Can Doesn't Mean You Should." My entry was an alpaca lace toilet seat cover (it's cushy for your tushy!). We were required to give a two-minute presentation and I was practicing it with friends at our local Panera's. A man at a nearby table overheard me and laughed so hard we almost had to resuscitate him. Upon reflection, I realize you don't see people bringing toilet seats into Panera's every day. P.S. I won the contest.
What's on your needles (or hook) right now?
A coat, heaven help me. I hope I get it done before next winter.
What's your favorite place to knit?
Anyplace there are other knitters!
What are your favorite kinds of knitting projects?
I love 'em all. I think it is just magical that you can take a one-dimensional piece of string and turn it into a three-dimensional object by waving two pointy sticks around.
What's your most irresistible fiber temptation?
Bamboo. If water were dry it would feel like that.
What's your best advice for beginners?
Start with wool yarn and bamboo needles. If you drop a stitch, it won't go anywhere. It will just sit there quietly while you figure out what to do.
Why do you love to teach?
It's so rewarding to see the light come on and the tension drain away as people realize that there's no wrong in knitting. There's only do you like what's happening or don't you. And if you don't we'll just try another approach. It's all good.