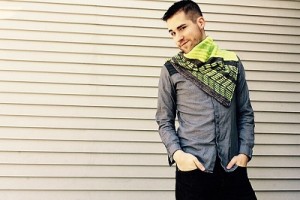 Finally, the details you've been waiting for… Below is the information for each of the workshops we're holding with Josh Ryks in a few weeks. These workshops are available for online purchase only; click on the workshop title to be taken to the appropriate page. (Note: If you  haven't purchased from us before, you will need to create an account; we promise it's quick and painless.)
Also, if you can't make it to the MKAL kickoff event but would like to get your hands on the glorious yarn from Forbidden Woolery (color combos selected by Josh), we have a few yarn kits available.
Thursday, January 14 from 6 – 8 p.m.
$45 plus supplies
Want to expand your shawl knitter skills? Or gain an understanding of how they work so that you can manipulate any pattern to make it work for you as the shawl knitter? Then join this class! Josh will be going through some of his PRO TIPS for shawl knitters and breaking down the shaping behind one of the most popular accessories to make in the knitting world! (or so Josh claims… )
Materials: 
2 colors of DK/Worsted weight yarn
US size 8-9 (5.0/5.5mm) needles
Stitch markers
Friday, January 15 from 10 a.m.- 12 p.m.
$45 plus supplies
Short rows. They are mystifying, fascinating, frustrating, daunting, and easy all at the same time. How can such a paradox exist in something so small and seemingly insignificant? This class seeks to answer those pressing questions you might have about the intriguing, exciting, shady, elusive, perplexing, and downright fascinating Short Row Technique – including (but not limited to!):
What method should I use and for what? When is one method more effective than another? How does one close those nasty gaps in short rows? What is a short row?
Josh will discuss about when and where to use a short row, how to do one, and teach various methods of working short rows! He does love his short rows and hopes to inspire you to knit a short row – or two!
If you've never done short rows, or if you've done hundreds of them, this class is for you!
Materials:
Some scrap yarn to play with. I personally suggest worsted or heavier weight yarns as they will help you learn the various wrap and turn techniques at a bigger gauge.
Appropriately sized needles for your yarn choice!
Safety pins/Locking ring stitch markers
T & T (Tea Tasting & Trunk Show)
Friday, January 15th from 2-4 p.m.
$45
Those of you who follow Josh know that he loves designing and tea. Join us as we taste teas (some from Josh's own stash) and a few snacks while enjoying Josh's antics and his wonderful designs! This is a perfect time to check out his lovely shawls from past Mystery Knitalongs.
Depth Charge Mystery Knit Along Kick-off
Friday, January 15th from 6-8 p.m.
$110 (Includes three skeins of Forbidden Woolery Yarn)
Join us at the studio as we kick-off Josh's latest MKAL, Depth Charge, that will launch to the public the next day! Be the first to start the project with exclusive colorways chosen by Josh himself! As a bonus for joining us, be among the only knitters who will view the entire shawl at the very beginning. Josh will show sketches and share the design process that he uses to create these lovely designs. This is a once of a lifetime event to get a look into the mind of an up and coming designer!